R & D Lab and Pilot Plant
QA/QC
We have a dedicated QA/QC to handle Incoming, In-process and Finished goods with independent Microbiology section. Our team also develops methods of analysis, lays down specifications and works out quality assurance norms in relation to activities of Ocean Healthcare Pvt. Ltd.
Research & Development Lab
Our R&D lab conforms to global standards and has infrastructure for both basic and applied research. The Lab is focused on New Drug Delivery Systems, Generic Drug Development, Value added Generics and Innovative Nutraceutical products. It is equipped with the latest sophisticated analytical instruments and also a team of dedicated research personnel.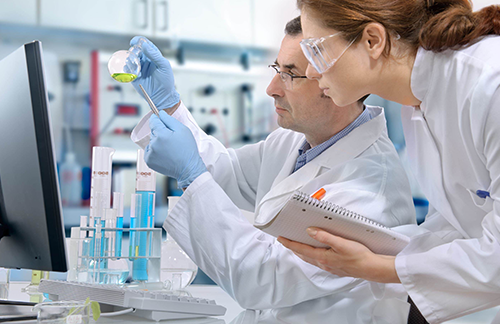 Activities under Formulation Development
* LITERATURE STUDY
* API & EXCIPIENTS COMPATABILITY STUDIES
* LAB SCALE TRIALS
* PILOT SCALE BATCHES
* SCALE UP & STABILITY BATCHES
* TECHNOLOGY TRANSFER
Activities under Analytical Method Development
* CHARACTERIZATION
* METHOD DEVELOPMENT
* METHOD VALIDATION
* STABILITY STUDIES
* IMPURITY PROFILING
* METHOD TRANSFER
Pilot Plant
We also have a CGMP compliant pilot scale plant commissioned for scale up and stability batches.
Our Partners
* API Manufacturers/Suppliers
* Contract Research Organizations
* Excipients Manufacturers/ Suppliers
* Contract Analytical Organizations
* Packaging Materials Manufacturers/ Suppliers Clinical Study Organizations Marketing Partners